Everything Well Considered
While we do everything in our power to roast and serve the best coffee possible, coffee itself isn't actually the core of our company. It's our guests. We want to nurture a sense of wonder through your experience and interaction with what we do. Whether you buy a bag of coffee online, visit a cafe or just happen to live down the street from one, we hope you encounter our commitment to surprising hospitality, joy-rooted excellence, curious innovation and meaningful community.
A Culture of Creativity
The more we learn about the interplay between the beaker-and-lab science and the by-hand craftiness of coffee, the more ideas we have about ways to innovate our drink offerings beyond the typical flavor + espresso combinations. Here are a few creations that have stuck around.
Flash-chilled Coffee
Our favorite, simple and unique way of brewing cold coffee. The flash-chill process allows us to harness each coffee's natural characteristics with a hot-water brew, and then lock them in place with an immediate reduction in temperature – all without using ice or cooling in the fridge. Just brew, flash-chill and serve it in minutes.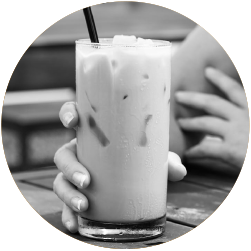 Rested Drinks
A new kind of espresso & milk drink, in which a signature drink is prepared fresh in batch and then allowed to age (or rest) for a specific period of time. Contrary to current industry standards, you'll find the rested flavors to be more complex, more distinct and more rich than the "proper" fresh version.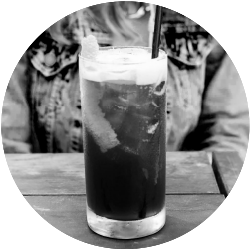 Matchless Coffee Soda
A flash-chilled coffee base, with demerara and citric acid added to stabilize and preserve the aromatics. The beverage is then carbonated and served with a fresh orange peel, which combine to give your senses a burst of effervescence and brightness.
Visit MatchlessCoffeeSoda.com to learn more.